Keops is a leading-edge collaborative platform for the management of pre-clinical and clinical studies. Keops has been developed in close collaboration with Pfizer scientists to solve the new challenges faced by the Bio/Pharma industry today.
Digital Platform
Keops provides a secure, efficient and easy to use solution to collect, analyze, process and store high-quality digital media of pre-clinical or clinical studies.

Keops features a distributed system to manage digital assets of pre-clinical or clinical studies. The main features of Keops are comprised of:

Connectivity to high quality imaging instruments to capture digital media. Digital cameras, analog video camera and digital video cameras are currently supported.


Management of pre-clinical or clinical studies with several treatment groups. A study is comprised of several treatment groups for which a complete image history will be recorded through the duration of the study.


Management of users and modifications in compliance with FDA regulations. All changes related to clinical study data are recorded and can be viewed in an audit log.


A comprehensive set of in-depth searching capabilities. Intuitive query functions allow scientists to retrieve observations and associated images in large study databases.


Open Architecture
Uniquely designed to run in a highly regulated industrial environment, Keops provides a fast acquisition process of high quality color images with a resolution of 3072 x 2048 pixels using direct connection to a wide range of imaging instruments.
Keops is specifically designed to work with digital EOS cameras, digital video cameras as well as to capture images from composite, S-Video, or RGB video feed from standard video cameras mounted on medical instruments.
Keops open and secure framework provides an ideal solution to tailor the representation of clinical studies with several treatment groups to your company standards through an intuitive and easy to use user interface. Keops unique method to record observations with diagnostics at the press of a footswitch makes the screening of large treatment groups fast and reliable.

Ophthalmology Solution
In the most common ophthalmological studies, researchers record high quality images to their examinations. Keops is providing these scientists a leading-edge collaborative imaging platform to document the finest of pathology.
Keops, combined with high quality ophthalmic imaging instruments from renowned vendors such as Canon and Haag-Streit, provides an unequaled solution for the management of ophthalmological studies. To accurately document the eye, a typical installation will be connected to Sony FireWire digital video cameras mounted on slit lamps, Canon EOS digital cameras mounted on mydriatic and non-mydriatic fundus cameras as well as an analog video indirect ophthalmoscope connected the video board of a Keops acquisition workstation.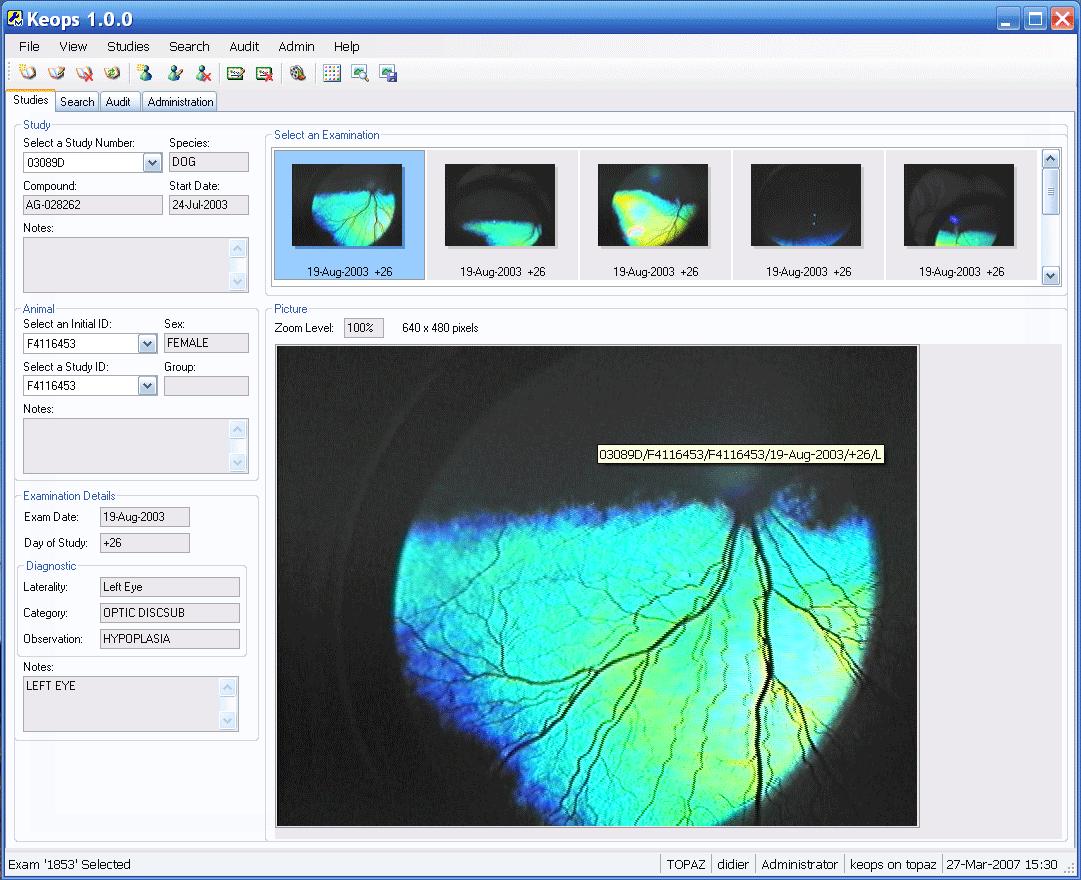 View Screenshot